Dr. Will Caster (Johnny Depp) is a brilliant mind in the field of Artificial Intelligence. His research is moving humanity towards scientific breakthroughs that could heal Alzheimer's disease, cancer, and restore the world's ecosystem. In short, Caster's technology has the potential to restore a polluted world and its sickly people.
Transcendence depicts a world where anything can be accomplished with human innovation and elbow grease.
Bringing Eden Back
Our computer savants reveal a major theme of the film in their names. Will Caster clearly hints at the concept that man can impose his will and cast a new hope upon the Earth by harnessing the boundless power of technology. Will's partner is Evelyn, or Eve. Yes, these two will unite to restore a garden lost by Adam and the original Eve.
There's only one problem…sin is unaccounted for.
Technology as Healer
Technology is presented as a healer and a way to infuse superhuman strength for increased productivity. Someday technology might offer these benefits and that would be nice. Even if every sickness could be addressed with medicine or technology, the sin we are guilty of will still condemn us. Technology can't provide forgiveness from sin.
What!? Sin!? I can imagine Will Caster and his wife Evelyn Caster snorting in disgust at the concept. Many people do. It's offensive to be made aware of our inability to keep God's commands, but sin makes us aware of our need for forgiveness. Now the Gospel can sweetly revive us with the eternal life given to us by faith in Christ. No works necessary.
Jesus clearly identified sin as the greater issue when He healed the sick.
Matthew 9:2-7 (ESV)

And behold, some people brought to him a paralytic, lying on a bed. And when Jesus saw their faith, he said to the paralytic, "Take heart, my son; your sins are forgiven." And behold, some of the scribes said to themselves, "This man is blaspheming." But Jesus, knowing their thoughts, said, "Why do you think evil in your hearts? For which is easier, to say, 'Your sins are forgiven,' or to say, 'Rise and walk'? But that you may know that the Son of Man has authority on earth to forgive sins"—he then said to the paralytic—"Rise, pick up your bed and go home." And he rose and went home.
The greatest work Jesus provides humanity is the forgiveness of sins. Christ came for this purpose; for our redemption. Yes, Christ worked many miracles of healing, but those people would eventually die because of sin.
Technology can provide a temporary boost to our health, but only faith in Christ provides an eternal resurrection.
John 11:25-26 (ESV)

Jesus said to her, "I am the resurrection and the life. Whoever believes in me, though he die, yet shall he live, and everyone who lives and believes in me shall never die. Do you believe this?"
Technology Revives Creation
Will Caster creates an army of super humans and needs something to do with them. It's determined that the greatest good would be removing pollution from the Earth.
Unfortunately sin prevents man from restoring a decaying world. Paradise was lost to sin, not pollution – so this clean up will require God's hand.
Romans 8:19-21 (ESV)

For the creation waits with eager longing for the revealing of the sons of God. For the creation was subjected to futility, not willingly, but because of him who subjected it, in hope that the creation itself will be set free from its bondage to corruption and obtain the freedom of the glory of the children of God.
Isaiah 65:17 (ESV)

For behold, I create new heavens and a new earth, and the former things shall not be remembered or come into mind.
I Love Technology, but It Doesn't Love Me
This is not an anti-technology post. I'm not calling for true Christians to run barefoot into the wilderness, tossing their phones into garbage cans along the way. Although that would provide a refreshing respite from the bombardment of messages, it's not the point.
Like Kip I love the potential and convenience wrapped up in technology. Gizmos and gadgets are great tools for improving the quality of life. Yay!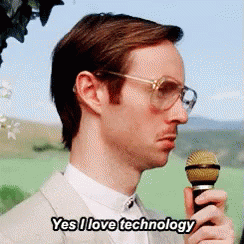 As obvious as it appears, technology won't ever provide mankind the salvation it longs for. Christ alone gives eternal life.
Politicians, celebrities, and sci-fi flicks will continue to ponder the power of new technologies for medicines healing the sick and eliminating pollution. But remember, innovation will never jump the chasm to salvation. It didn't work in Babel and it won't work today.